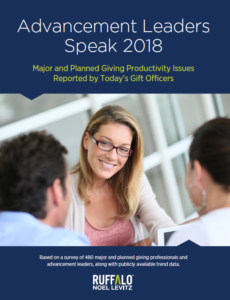 Our 2018 major and planned giving productivity survey results are out, and you can download your copy here.
Some highlights:
We once again found that only about half of assigned prospects get a visit each year.
Gift officers feel that on average only about 34% of their pools are truly qualified for a major gift.
Less than 10% of gift officers are judged on how quickly they move from identification to close of a gift.
It's time for us to make gift officers less like "independent contractors" and provide the tools they need to better engage donors.
Download your copy today, and let me know if you have any questions or feedback!